Set on the crossroads in the centre of the old village of West Chiltington, The Queen's Head has re-opened under new ownership. Martyn and Lyn who have successfully re-vitalised the White Hart at Stopham have now extensively renovated and improved the facilities and the restaurant. Open for early coffees (and light bites) daily from 11am and later for lunch and dinner.
Many will have lost touch with the Queen's Head over the last few years with the changes in ownership, but Kevin and Jane of Brand Inns Ltd and their head chef Richard are determined to restore that 'touch'. The team have a well-deserved reputation built up at the White Hart and bring this to West Chiltington.
There is a large car park behind the pub.
The pub is open from 11 to 11 Monday to Saturday and 11 to 10:30 on Sundays.
Despite enhancing the dining options we have been careful to try to preserve the 'local' atmosphere of the pub.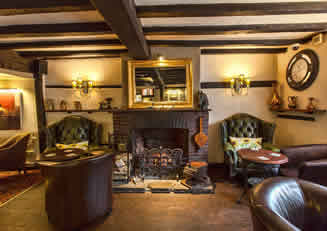 Those of you who have eaten from our extensive menus at The White Hart will recognise some of the favourites that the team have brought across, and we have some new exciting items for the Queen's Head menus.
From the morning and through the day we offer our Brasserie Bar where you can have barista coffees, bacon or sausage baps and cake! So, if you and friends are looking for a relaxing break after the school run, or you are in on business and need of sustenance before embarking on your day's meetings, why not come in and try us? If you are looking for social club coffee mornings, business meetings and corporate functions as well as
any
social occasion you will be more than welcome at The Queen's Head.
Our extensive restaurant times are:-
Monday to Thursday
Lunch 12 to 2:30
Evening 6 to 9
Friday and Saturday
Lunch 12 to 2:30
Evening 6 to 9:30
Sunday - 12 to 4
Our Brasserie Bar is open daily for drinks and barista coffees
To book or for general enquiries, telephone on
01798 812244
Don't forget
our sister pub,
The White Hart
at Stopham, remains an extremely popular pub and eating place, and if you haven't tried our delicious menus - why not? When the weather is warmer, do come and sit in our re-vamped garden by the river, with garden bar and a marquee.
***** We are delighted to tell you all that we have now brought the Labouring Man in Coldwaltham into our group of pubs. Why not pop in and see the changes we have made? We are in the process of making major improvements to the accommodation there too. You can follow our progress on The Labouring Man. We look forward to seeing you there! *****